About the Founder, Letty Carroll
Letty's clinical background and vast managed care experience will serve your practice and facility well in the analysis and appeal of denied medical claims.
---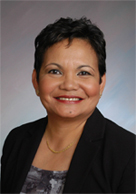 Registered Nurse
Upon graduation, Letty was invited to join the faculty of the nursing school she attended. In this capacity, she taught and supervised nursing students in the operating room. This experience gave her a high level of understanding of the coding and billing processes for surgical procedures and treatment.
Letty has more than 12 years of experience in several dialysis units. During this time, she also served several nursing homes in Union County, NJ on a per diem basis. These experiences enhanced her knowledge of Medicare and Medicaid billing.
Certified Care Manager
After many years in the clinical area, Letty became interested in working with insurance companies. She served as a nurse case manager for several large national insurance companies where she gained the respect of claims managers, co-workers and self-insured employers through her efficient and very effective handling of medical cases. In addition, Letty reviewed medical records, treatments, and procedures for effectiveness of prescribed treatment.
She also served as a medical supervisor for UPS. Letty supervised the medical management of workers' compensation claims. She gained valuable knowledge of how the claims of a selfinsured employer are processed and paid.
Letty's vast managed care experience will serve your nursing home facility or medical practice well in the analysis and appeal of denied medical claims. Each staff member of MCR&DS is trained to look at each claim the way a claims adjuster does. We are very proactive in our approach to the follow-up and appeals of claims. Our director reviews and supervises the follow-up and appeal of each claim to ensure that proper regulations are followed.
ERISA Appeals
She received special training in ERISA Appeals under the mentorship of the pioneer in this specialized field.